Our Team
At One Ventures is not a team that sits by. Driven by insatiable curiosity, we geek out over the potential of technologies to tackle environmental challenges. We're focused, and with that focus comes an energy that we direct into increasing compassion in the world. We care deeply about our founders and our companies. Together, we will heal our planet.
Talks, lectures, and presentations
Green Biz • Mon Nov 04 2019
Making ecological regeneration imperative for tech
Source
TEDxTaipei • Sun Jan 10 2016
Everything is Connected
Source
Unreasonable • Wed Jun 13 2018
Why the Survival of Humanity Depends on Human Consciousness, Not Technology
Source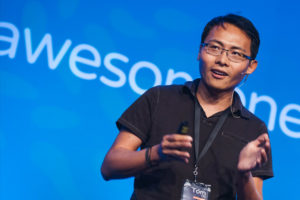 Impact Money • Fri Dec 18 2020
Interview with Tom Chi: Can Business Be "At One" with Nature?
Source